Sunflower Types and Varieties
Sunflowers belong to the genus Helianthus, which contains over 80 different species. The sunflower that most people refer to is Helianthus annuus, meaning annual sunflower. 38 species of Helianthus are perennial, which grow back every year on their own. I'll first, touch lightly on those perennial sunflowers, which are cousins to the fast growing sunflowers that we all love so much. Further down the page, you'll find many varieties of annual sunflowers.
Helianthus maximillianii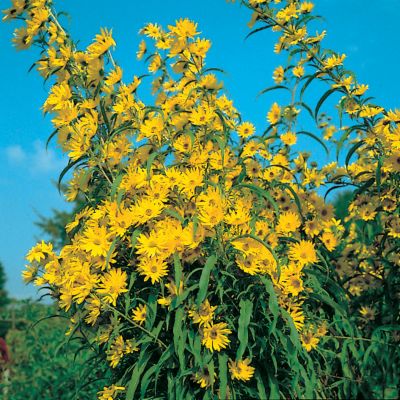 This is a perennial sunflower that has many 3″ flower heads and grows up to 10 feet tall. It can have the tendency to be invasive if you do not dead head the blooms before they go to seed. I have this planted in a grassy field and it has not produced other plants. Maximillian Sunflower, also sometimes called Prairie Sunflower, makes a big impact if you have the room for it.
Helianthus angustifolius
Commonly referred to as Swamp Sunflower and mostly found in the eastern United States. Swamp Sunflower, as it name implies, likes moist conditions. Has long narrow leaves, it is often seen growing near creek beds. Can grow in dry soil but will not be as tall.
Helianthus divaricatus
Woodland sunflower spreads by rhizomes to form clumps, might be invasive if not kept in check. Blooms from July to September and reaches heights up to 6 feet.
Photo Courtesy Missouri Botanical Garden PlantFinder
You may purchase at ShootingStarNursery.com
Annual Sunflowers
Sunflowers are a favorite for many gardeners, beginners and experienced alike. And it's no wonder, they must be the easiest of all flowers to grow! There are many varieties of annual sunflowers to choose from, from the dwarfs to the giants, from the bright yellows to the husky reds.
Helianthus debilis – Vanilla Ice
Almost white, but not quite, 'Vanilla Ice' produces multi-branched stems that carry 5 inch blooms which are wonderfully suited for cut flowers. Grows 5 to 6 feet tall in any soil, but moist conditions will give more blooms.
Helianthus annuus – Sunny Smile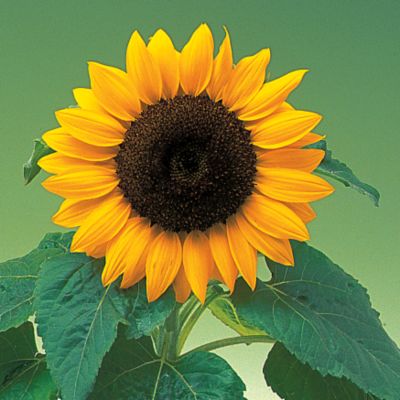 One of the best dwarf sunflowers, growing only 12 to 15 inches tall! No pollen, so perfect for bringing inside. You'll get four or five 5″ blooms if planted outside, but you get one big one if you plant it in a pot. A must have for children's gardens since they do not need staking.
Helianthus annuus – Cocoa Sun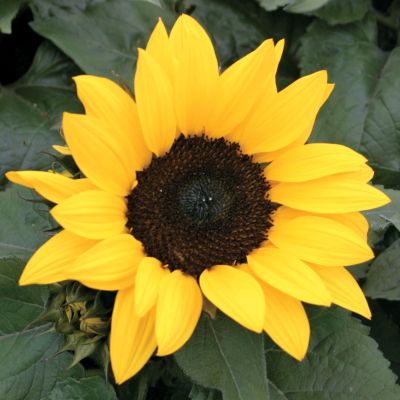 A dwarf small enough to plant in flower boxes. Grows only 10 to 12 inches tall and has enormous lemon-yellow flower heads. Foliage is so dark green that from a distance it looks black.
Helianthus annuus – Moonshadow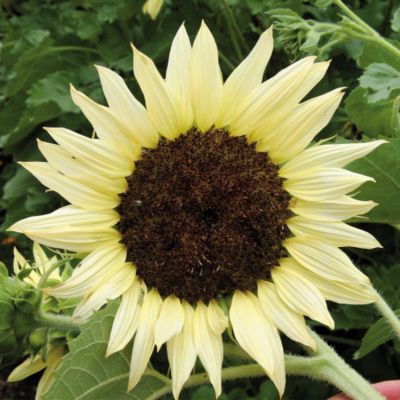 Another almost white sunflower but not quite, Moonshadow produces 4 inch flower heads atop 4 foot tall plants. This pollen free plant is perfect for cut flowers as it won't make a mess and the blooms last up to 3 weeks! A great sunflower for dying. Heavier feeder than other sunflowers so it needs fertilizer or some compost added to the soil.
Helianthus annuus – Velvet Queen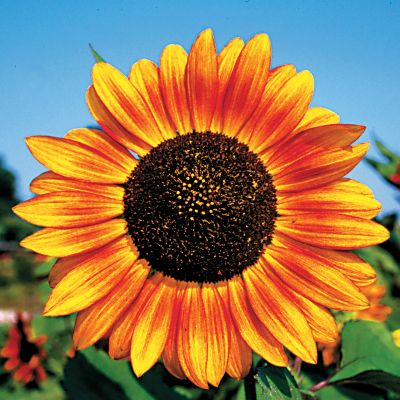 This annual sunflower produces 8 inch blooms on 4 to 5 foot stalks. The flower petals have various shades of orange and yellow with a large black center. You'll feel welcome standing among these beauties due to their size.
Helianthus annuus – The Joker
Wow, this annual sunflower bursts a wonderful surprise with its double starburst! Showing off 6 to 8 inch blooms on 6 to 7 foot plants. Makes a great screen to block unsightly areas or those nosey neighbors.
Helianthus annuus – Claret Hybrid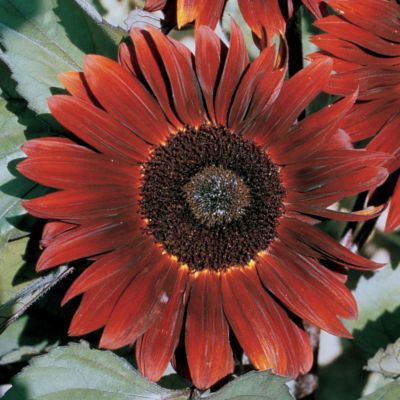 Stunning deep red petals on 6 inch blooms and they're pollen free too! Petals do not fade in full sun. This side branching annual sunflower grows 5 to 6 feet tall and makes a great temporary screen.
Helianthus annuus – Russian Mammonth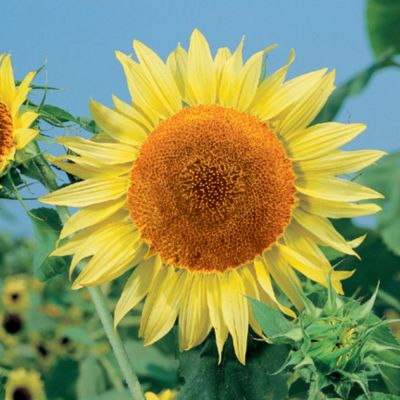 Blooms on these annual sunflowers can reach up to 14 inches wide. Yellow petals nod from atop the 8 to 10 foot stalks. This heirloom variety may need staking to keep the young stalks from toppling over.